PhiBrows Course Cost: Is It a Good Value for Money?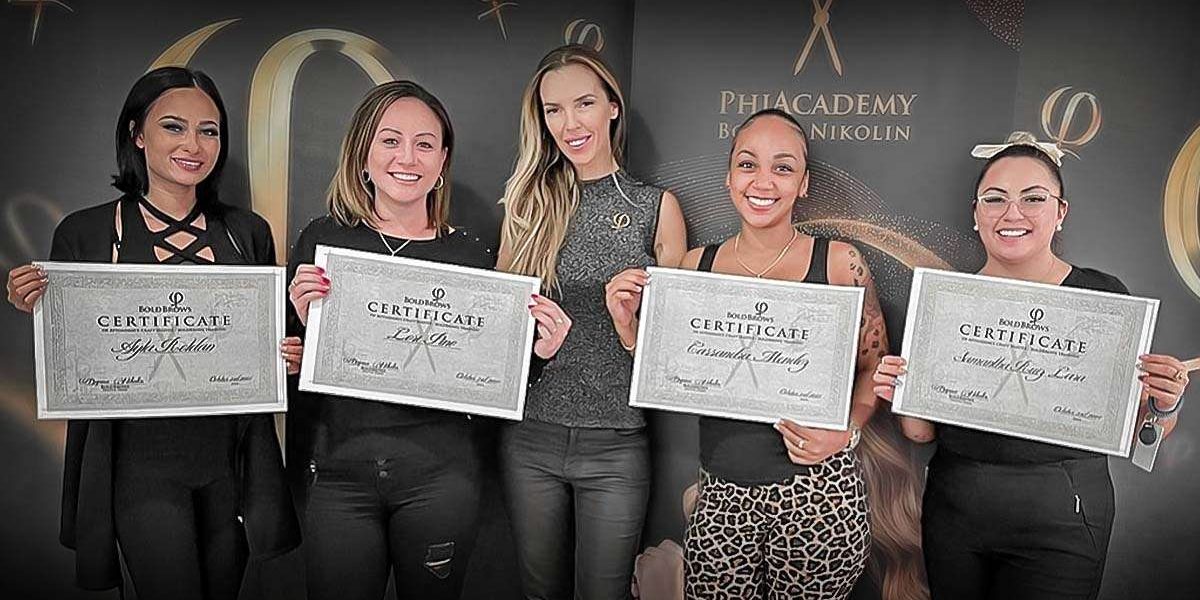 Learning microblading is so appealing because it doesn't require years of education and it promises good income once you start working with clients.
One of the first things people take into consideration when choosing a course is its price. Naturally, people want to make a smart investment and not feel like they wasted their money upon completing a course.
It is natural that quality costs money, and the PhiBrows course price is not low. But, we can guarantee that you get much more than you pay for.
Here's what's included in the PhiBrows course cost.
Professional PhiBrows or BoldBrows Microblading Kit
Getting a kit with everything you need for learning and working is such a relief! It eliminates confusion and saves you time because you don't have to browse products and buy them yourself – it's all there, waiting for you in a luxury box.
PhiBrows and BoldBrows kits contain materials enough for up to 80 clients. This means that you will have enough for learning and practicing as well as your first clients.
The total Premium kit value is around $1,200 and it's included in the PhiBrows course cost.
Here's what comes in the BoldBrows or PhiBrows kit.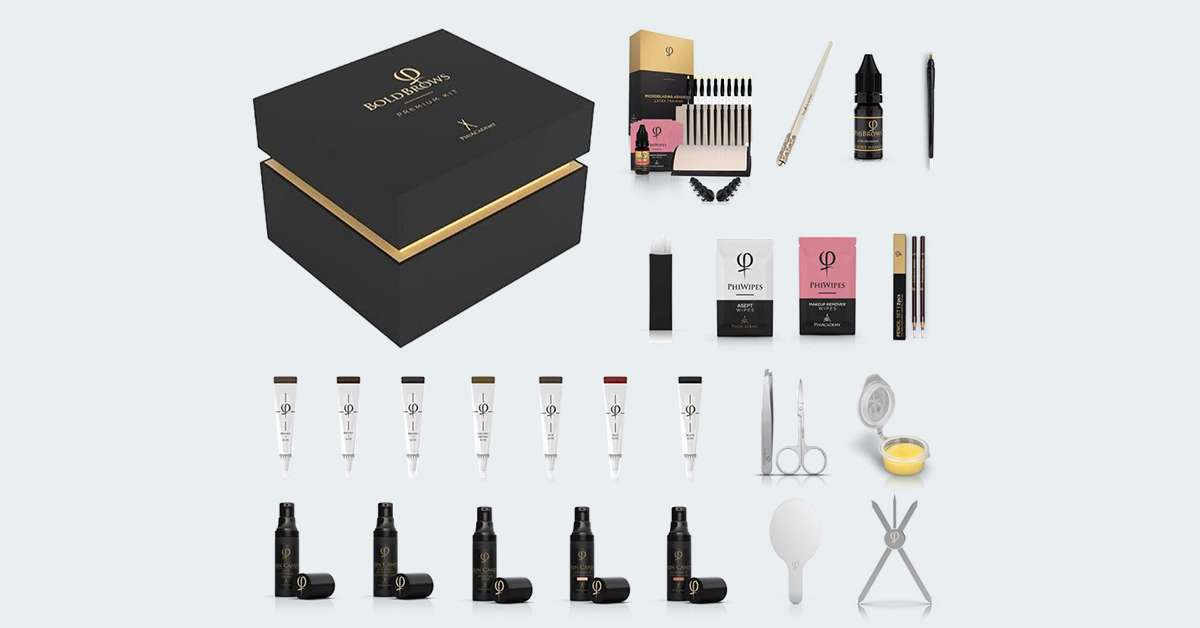 PhiBrows Certification Training
Now let's see what the training itself includes. Whether you choose PhiBrows or BoldBrows training, which is a very popular microblading pattern, the classes are similar and you'll get more or less the same things. It's just the technique that is slightly different.
There are two parts of the training: live and online.
The live portion of PhiBrows training lasts for 2 days. You will learn about the theory, basically everything you need to know before you start mastering how to create hair strokes with a microblade.
Then, on the second day, the practical part. You will learn actual PhiBrows or BoldBrows microblading. Your instructor is there all the time, for all of your questions, to guide you, and show you tips and tricks on how to practice on fake skin.
And then the best part – working on a live model! This is a priceless experience and a very important part of learning the skill. Don't worry about making a mistake – you will draw hair strokes under the very close supervision of the instructor.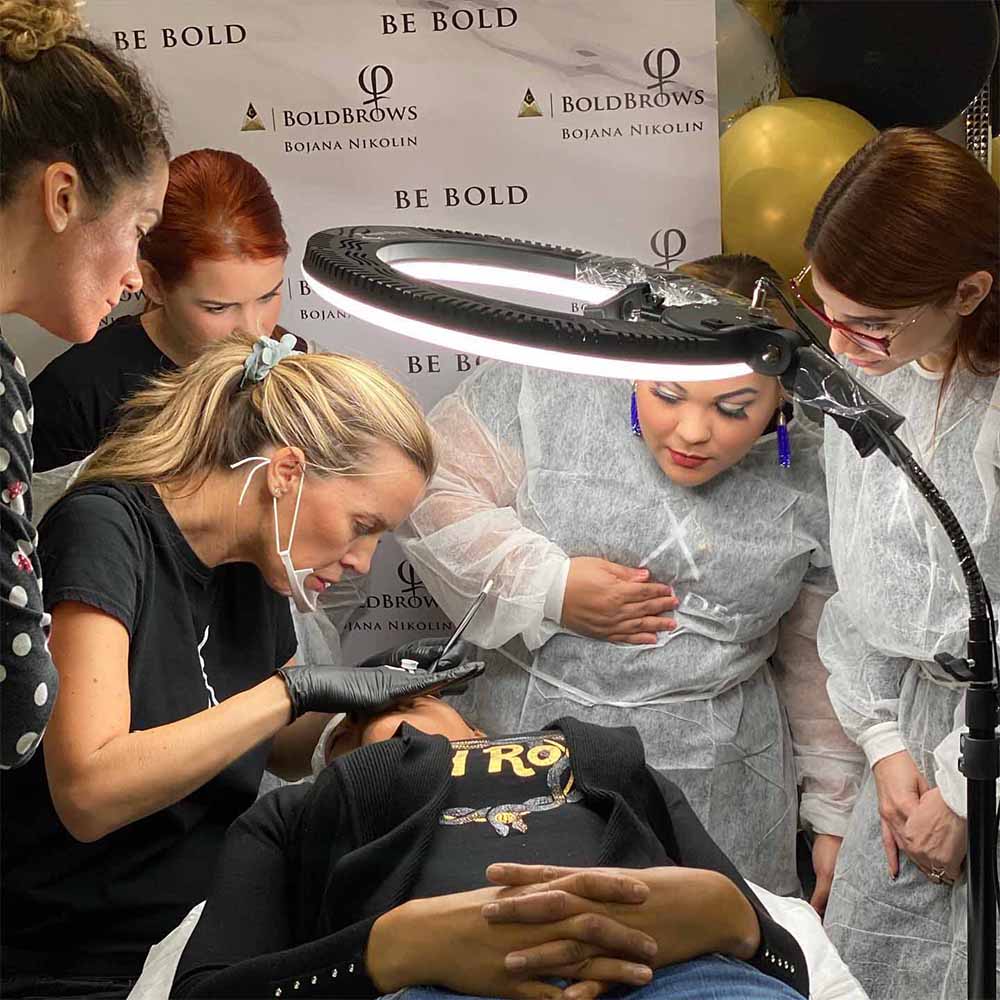 CraftMaster App
Now, the second part of the course: access to the ultimate learning app, which contains all the lectures and materials you need to master the PhiBrows microblading skill.
You use the CraftMaster App to learn, submit your work and communicate with the instructor/academy. And you have up to 6 months to complete the course, which is more than enough because most students complete it much sooner!
Once you complete all 12 levels on the app, you become certified by PhiAcademy. You'll get your own personal logo and placement on the World Artist Map. And the support from Phi colleagues will help you start.
Another App? Bring It On!
Yes, one of the best-developed apps for mapping and brow measuring, PhiApp is also included in the PhiBrows course price. It is a perfect tool for creating symmetrical eyebrows and making sure they are even.
You also get unlimited Dr.Phi support via PhiApp for all the help and support you need.
Phi artists just love it and the best thing is – the access is unlimited.
Color Theory Made Simple
Color theory is one of the hardest things microblading students have to deal with. To help you learn how to find a perfect pigment shade for different clients, PhiBrows course cost includes unlimited access to the Pigment Calculator App.
This app will help you come up with a perfect color for any client in no time. It will recommend which pigments to mix, based on skin features, natural hair color, or color of old permanent makeup.
But Wait, There's More!
To become a successful microblading artist you will need to have a solid knowledge of dermatology, skin structure, contraindications for the treatment and similar things. That's why you'll get the PhiBrows Skin Expert Course free of charge.
And not only that! There are other courses included that will help you start a successful microblading business. You will get useful business tips during the live training but also with GMC (Get More Clients) course and First Class Service course.
The fourth bonus course you'll get is a Hygiene course which will help you keep the proper hygiene in your salon and your clients safe.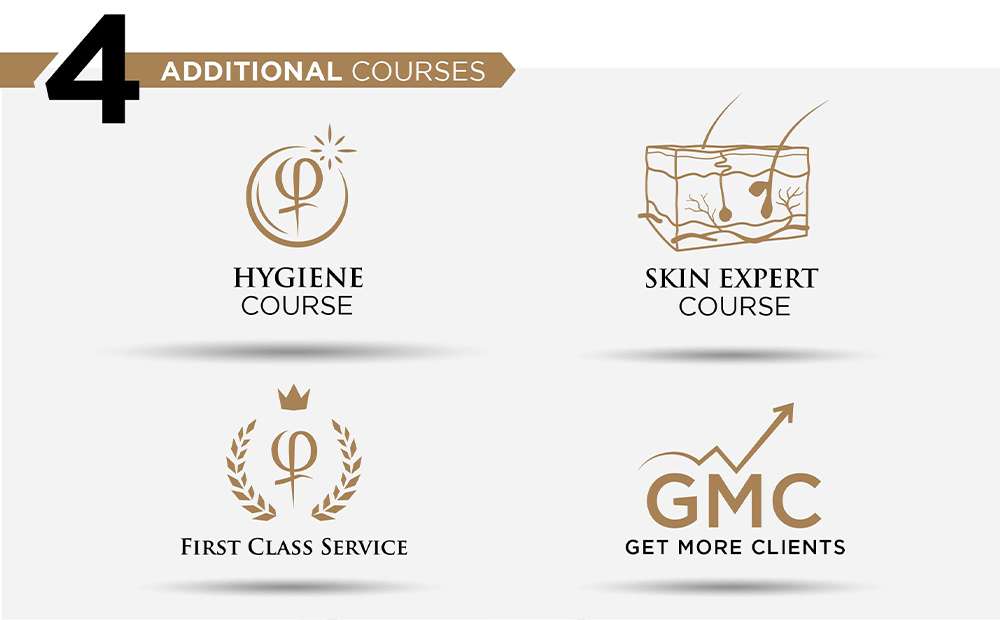 Machine Shading Demonstration Is Also Included
If you decide to get a PhiBrows microblading course, you'll get to learn another technique – machine shading. Machine shading is a very popular skill and it can come in handy for all of those clients who want to add some shade to their microbladed eyebrows.
That's a Lot of Things! When Will My Investment Pay Off?
Well, let's see. The course (with a Premium kit) costs $3,600. The average price of a microblading treatment in the US is $600. When you start working, you will charge the beginner's price for the treatment.
If you charge much less than the average, you can return your investment in two months with only one treatment per week! And at the beginning, you don't need to spend money on supplies – the Premium kit you get at the training will do.
See our upcoming live microblading training dates and locations
Can't Make It to Live Training? Learn Online
PhiBrows online course price is a more affordable option. For $2,142 you get the same quality training with all the materials necessary for mastering the skill. You will learn via the CraftMaster app and pass levels, with the support of the Phi Master.
The only thing that you will not get is the chance to work on live models and communicate face to face with the instructor, but if you feel you lack the practical part, you can join a live microblading workshop upon completing the online training (you just need to pay the price difference).
To Sum Up
Now that we've explained what the PhiBrows course cost includes, you can see why these training classes are so popular and why most Phi students become successful microblading artists upon certification.
Whether you choose PhiBrows or BoldBrow microblading training, you can be sure you'll get good value for money because PhiAcademy is committed to building a strong base for future successful business people.